Document Management
Lornit.DMS – (Document Management System) is a cloud based service that can be delivered as a stand-alone solution or as part of a Management Information System such as the following:-
What is a Document Management System?
A document management system (DMS) is a computerised system used to track and store electronic documents. A document management system is also expected to keep track of the document versions, as the document is modified by different users – what is known as history tracking.
Many times a document management system forms part of an enterprise content management (ECM) system. In such a system the document management works alongside digital asset management, document imaging, workflow systems and records management systems.
Why is Lornit.DMS a better option?
Lornit.DMS provides the following benefits over a standard package: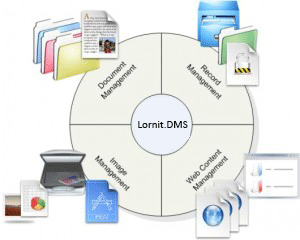 It is a low cost solution.
It is a customisable Solution.
Cloud hosting is provided as standard setup.
It can be setup on any hosting provider in any configuration; cloud, internet, WAN, intranet and even on a  single computer.
It integrates natively with web applications, windows applications, iOS apps, Android Apps and Windows Apps.
the SDK is available for a speedy implementation.
Integrates directly with Management Information Systems
History
Document Management Systems where originally created to manage paper based documents, photographs, published material and so on. Later on these systems evolved to cater for the multitude of electronic document types that people started creating on their computers. As these documents needed to be shared and managed across organisations. Such systems where known as EDM (Electronic Document Management) systems.
Early EDMs just managed documents in their native file format, such as Word, Excel and Pdf. Today's document management systems however are expected to store document content as content (html or xml) such that the content can be indexed and searched; allowing for a new type of use.
Document management system – Features
Metadata
Version Control
Indexing and Searching
Sharing and Distribution
Collaboration
Security
Workflow