Small Business: 5 Tips to improve your business
Set Goals
A sense of direction is essential part of staying in business. Understand your limits, set clear objectives and work hard to achieve them. Luck by itself won't keep you in business for long, a good sense of direction and the energy to set and follow objectives will.
Keep Track
When you're running a small business, you are most likely to be doing many things by yourself. Keeping track of the different tasks that need to be done can be a pain. It's too easy to end up doing the tasks you enjoy rather than the tasks that are required. Spend some time every day looking at the numbers; resolve to do more time on the tasks that pay more, and to do less time on the tasks that pay less or none at all.
Motivate Staff
People want to be part of something bigger, let them be. Match the job to the person's passion, reward appropriately, recognise success and encourage personal growth.
Understand your Limits
Saying no can be as profitable as saying yes. Get the right person or company to do the right task. Don't do things you're not good at so that you have time for things that you're good at.

Think ahead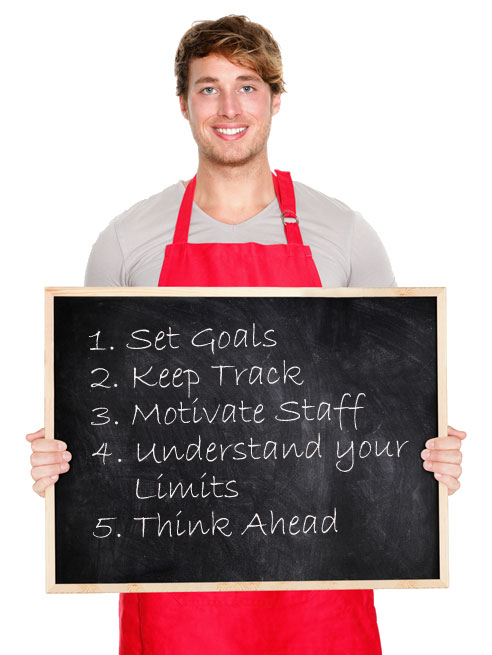 Everything changes. Events and changes in the world around us can impact your daily operations. Keep up with change, keep on learning, keep up to date and monitor trends. Know what to expect.