Lornit.Fleet – Fleet Management System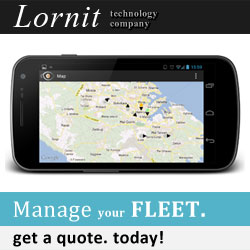 Lornit.Fleet is our inclusive Fleet Management Solution (FMS), specifically designed to be a support tool for better management of mobile assets and workforce.
The Lornit.Fleet suite of applications has been designed, developed and refined over a decade; utilising a simple user-friendly interface allowing customers to easily locate their mobile assets (vehicles or workforce) anywhere, any time.
Given our extensive range of supported hardware, important and valuable assets can now be monitored within city limits, in the desert or travelling to remote locations; whilst still being a cost effective solution offering a rapid return on investment.
Our solution can be easily modified further to cater for our clients' specific needs. Key benefits offered by Lornit.Fleet include:
Easy access from any internet ready computer, anywhere at any time
Easy access from any android smart phone or tablet
Real-time fleet movements and vehicle telemetry information
Supports large fleets yet cost effective for clients with small fleets
Supports GPS/GPRS and Satellite technologies
Remote immobilisation of the vehicle
Driver Behavior Reporting
Fuel monitoring and exception Reporting
Vehicle Telemetry
Vehicle Tracking
Vehicle Service and Maintenence Management
Vehicle Accident Management
Vehicle Fuel Consumption Management
Insurance and guarantee management
24/7 Customer Support
Custom interfacing with other applications such as Accounts and Payroll Systems
Extra modules offered on request. (e.g. Time sheet management tools, Accounts, Payroll, Human Resources Management Tools, Document Control and more…)
Features
The functionality provided by Lornit.Fleet includes (features can be customised to the clients' exact requirements):
Automatic records of all trips: 24 hours a day, 7 days a week
Automatic journey identification
User created Land Marks on the Map
Vehicle Maintenance Management functionality
Complete accountability (data and user access)
Customer managed users, user groups, access levels, custom definable screens and functionality
Fleet or individual asset location displayed graphically on mapping screen (Street, Satellite or Hybrid views) with scale, pan, zoom out/in (down to street level) functionality
Track, Trail and Monitor individual vehicles or fleets
Fuel Monitoring and Management.
Built-in Summary & User-Defined detailed reporting
Creation and management of Geofences (GEOFENCING) and the production of customised exception reporting
Journey Analysis functionality that allows allow for efficient analysis of huge volumes of information gathered from the tracking devices.
Journey Replay functionality to display historical vehicle position data over a specified time period (both as a geographical map display and as a text report)
Capability to export reports to MS Excel or convert to PDF format
Movement triggered monitoring for standard set monitoring updates; optional less frequent updates when vehicle is not in movement for long periods or engine not running.
Remote Polling for Position
Remote Configuration of update rates and settings
Driver Identification
Reporting of Disconnection of Power supply line to the unit
Interfacing of digital inputs and reporting back of statuses to display software (eg. vehicle air-condition on/off, door open/closed, temperature readings, car, ignition on/off, fuel readings, etc)
Support for Impact Sensors and Panic Alarms Switches
Functionality
Click here to see what our Fleet Management Systems/Vehicle Tracking can do for you.